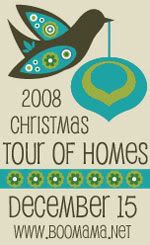 It's here!
I've been looking forward to BooMama's tour but it has taken me some time to get pictures of everything and find time during this busy season to blog...
Welcome to our home!
Here's the front door.
(We have to come up with a new system for next year, but right now there are all kinds of cords running so we can't actually go in this door....whoops!)
Instead, we'll go in through the side door.  
I love this wreath!  My mom bought it for me a few weeks ago.  It's made out of jingle bells so it's a good little holiday sound to hear as we come and go.
My door mat outside the side door.
I love snowmen.  I can keep them up even into February!
Our Christmas tree.  
Very simple with a nice stuffed Santa on top 
(compliments of Worker Man)
The presents are kinda all over the place.  Next year I plan to use all the same Christmas paper.  A couple of rolls from Costco and I should be good to go.  It makes it look better if everything matches...
The kitchen table
Here's the centerpiece up close.
It's so easy and super cheap!
The fireplace
My mom bought me Christmas trees to go on either side.  They match our living room perfectly! 
Mom gave me this little Christmas tree to put in the kitchen.  It's really cute.  
She has so much Christmas stuff and since we just got married, she let me borrow some of her Christmas stuff :) 
I bought my mom and FMIL a nativity scene when I was living in Peru last summer.  I don't have a nativity scene so mom sent the one I bought for her home with me.  I really wish I had bought one for myself but I wasn't planning on being married and wifey by this time....
Thanks for stopping by!
It was so much fun to give a virtual tour of our new home at Christmas time.
Merry Christmas!