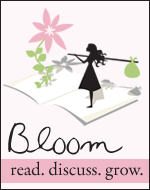 bloom is a new, virtual book club that just started.
we are reading crazy love as the first book.
we are in week two and it has been great so far.
each week we read a chapter.
angie and jess do a video on sundays and they have a guest video on wednesday.
there are also discussion groups on ning.com
you should join if you're interested.
it's not too late!
just click on the button above and go to the about section to get all the details :)